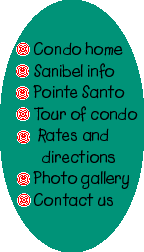 Pointe Santo D-47—Luxury Penthouse Condo on Sanibel Island
You'll Never Want to Leave!

D-47 is our luxury penthouse vacation condo at Pointe Santo de Sanibel, Sanibel's most delightful vacation paradise off the Gulf coast of Florida. Learn about the island, take a tour of our condo, see many photos of this ideal vacation location and find out how to rent directly through the owners.
Click here to see a 360 degree virtual tour of D-47 and

click here to see our availability calendar!
If D-47 is booked for the week you are seeking, we may have availability at our beach-level condo Pointe Santo E-2. To book a reservation or ask questions, call Dave at +1.973.420.3232 or send us an email.
Why is D-47 such a unique condo?
Our spacious two bedroom penthouse condo makes the most of the resort with its beach location. This spectacular corner unit features a private rooftop sun deck accessed by a spiral staircase giving panoramic views of the Gulf of Mexico, beach and grounds - an ideal location to watch both sunrise and sunset! Its features include
Two bedrooms and two full bathrooms, sleeps 6
The kitchen has new appliances, a large four-place eat-in countertop, dramatic lighting and an LCD TV.
Both bathrooms have large walk-in tile showers, and the master has a whirlpool tub.
The tropical furniture, window treatments and carpeting have a Caribbean feel, without that "usual Florida condo" look.
The living room has a flat-screen TV, cable TV, Blu-ray player with Netflix, and a surround sound system .
The master suite includes another flat-screen TV, a dressing area, a reading corner and the whirlpool tub and double walk-in shower.
The guest bedroom has two full-size beds and another flat-screen TV, with private access to the guest bathroom.
The oversize penthouse deck includes a full suite of custom-made aluminum sling furniture.
PC, printer & Internet: The work/play area has a PC; an LCD monitor; and a combination color printer, scanner and copier.
There's high-speed wired and Wi-Fi Internet access throughout the condo, with no limit on the number of devices or applications you can use.
Coffee your way: There are Keurig, drip and French Press coffee makers to suit everyone's preferences.
There's lots more throughout the unit, including crown moldings with recessed lighting, ceiling fans in all rooms, reading lights over the beds, filtered water, beach toys and towels, etc.
Pointe Santo has an ideal West Gulf Drive location close to all attractions. Professional on-island management welcomes you. On-site amenities includes:
Sanibel's fabulous beach just steps away
Tennis courts and shuffleboard
Swimming pool and Jacuzzi
Pool-side clubhouse
Gas barbecue grills and tiki huts beside the lagoon
Full range of children's programs
Wireless high speed Internet access
Here are some comments visitors have left in the condo guest book or emailed to us:
"We love your condo! Thank you for sharing it with us! We arrived yesterday and were so happy to have the beautiful views of the water, the lovely surroundings in your condo -- you really have thought of everything! We are really happy! I appreciated the big, comfy bed and the stocked kitchen with all sorts of cooking pans, utensils!"
"We will be highly recommending your condo! I think you purchased The Best Location! It was one of our most relaxing vacations!"
"We have had such a great week. The condo is beautiful and very comfortable. You personally have made our trip more enjoyable by helping with a few things. We would love to come back."
A honeymoon couple wrote: "Your home here is going to be hard to leave, but a glorious place to come back to in the future! Is the unit available for the same week next year? We certainly would like to book early and celebrate our 1st Year anniversary on Sanibel in D-47." (They have been back every year and just rebooked for their fourth anniversary.)
Another honeymoon couple wrote: "We absolutely loved your place. It was the perfect place for our perfect honeymoon!! Thanks for having such a beautiful condo. The condo and the honeymoon itself well surpassed our expectations and truly was perfect. We will forever look back on our honeymoon with joy, and your condo was an integral part of that!"
"We had a great time. We love the computer and used it often. Thanks!"
"We had a fantastic time here at Sanibel and the condo was great. We hate to leave and hope you have as good a time as we did!"
"By far your condo was everthing we wanted and more. We will never look for another condo and will always stay at yours! We loved it! Every room was so comfortable and decorated and furnished to our taste. You did a wonderful job renovating!"
Next stop on tour: Learn about Sanibel Island
Thank you for visiting our web site!
Revised 12/18/2018