Wine Bar and Computer Desk
An alcove off the dining room provides a place for work and entertainment, with a fully-equipped computer desk, wine bar, and a good supply of books.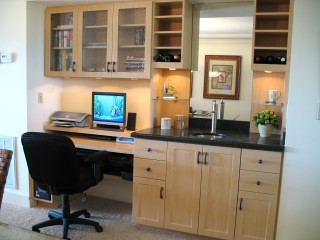 The computer desk includes
Sony VAIO PC with connections for all types of digital camera memory cards
17" Sony flat-screen display
Cable modem for high-speed Internet access
Color printer/scanner/copier
Computer desk and task chair
Desk accessories including scissors, 3-hole punch, stapler, paper clips, etc.
If you bring your own notebook PC, there's room for it on the desk. We provide both wired and wireless connections to connect your PC to our cable modem.

In addition, the entire Pointe Santo complex is a wireless "hot spot".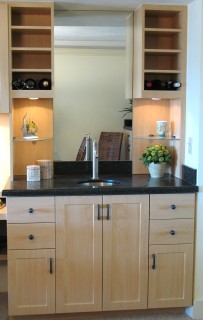 The wine bar includes a stainless-steel sink, a Silestone top, cubbies for wine bottles, and a blender for mixing drinks.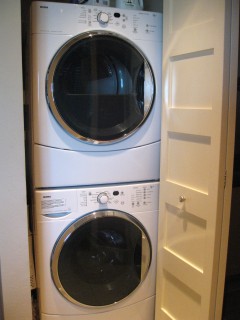 To the right of the wine bar, the laundry alcove has the latest energy efficient front-loading washer and matching dryer.

Next: Master suite -- or back to: Tour of the condo
Revised 10/7/2009