Kitchen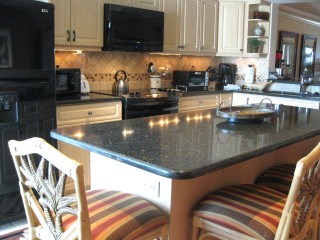 Fully equipped eat-in kitchen featuring:
Newly remodeled in 2009 with new Silestone countertops, tiled stone/glass backsplash and updated color scheme
Vaulted ceiling
Center island counter and ceiling fan
Multi-zone lighting with digital preset dimmers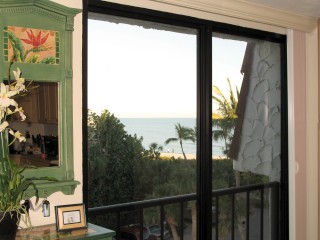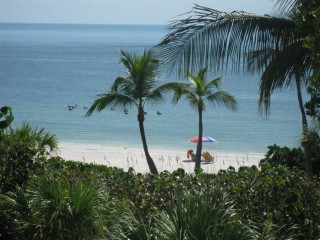 A floor-to-ceiling window facing east makes the kitchen bright and inviting. It provides a great view of the Sanibel beach and a view across the gulf to Bonita Beach and Naples (left: late afternoon view).
While eating breakfast, it's hard not to keep looking out the window (right: morning view).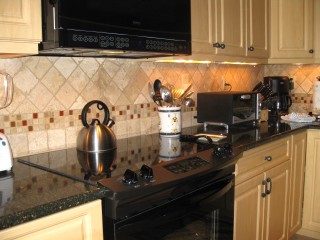 The kitchen is furnished with the latest premium appliances.
Refrigerator with ice maker and in-door filtered cold water dispenser
Full-size smooth-top range with convection oven
Full-size premium microwave
Dishwasher
Fully equipped with coffee maker, blender, toaster-oven, rice cooker, waffle iron, pots and pans, dishes, wine glasses, wine openers, etc.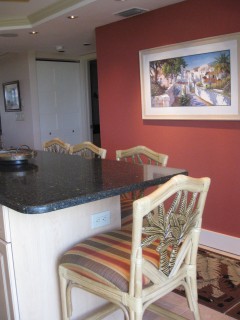 Have breakfast or a snack at the roomy free-standing island counter, equipped with four comfortable bar stools.

Next: Dining area -- or back to: Tour of the condo
Revised 10/10/2009