Living Room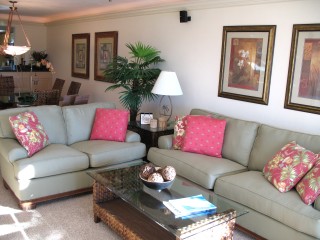 The living room is a comfortable place to watch TV, listen to music and entertain. It is brightly lit by natural lighting during the day.
Newly decorated in island colors, it is furnished with designer-selected tropical furniture including a love seat, queen-size sleep sofa and three glass-topped tables.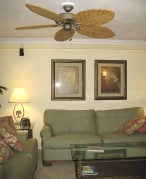 Crown moldings with recessed lighting add a romantic touch in the evening. A ceiling fan with tropical palm blades provides a cool breeze at any time of day.
Sliding glass doors lead to the screened porch.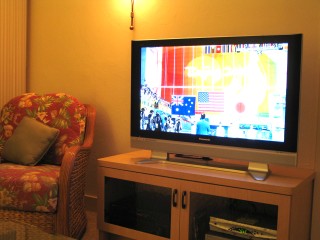 Across from the sofa, the entertainment center features a complete high-definition home theater equipped with a top-rated 42" plasma TV, high-definition digital cable service, and a Bose surround sound system with six loudspeakers. A combination DVD/CD/VCR player completes the system.
The 2008 Olympic Games were spectacular in high-definition TV and surround sound.

Next: Wine Bar and Computer Desk -- or back to: Tour of the condo
Revised 5/3/2006